Chaser 980
CHASER 980 is designed to be leveraged for multi-purpose missions with customizable specifications to meet any client's requirements.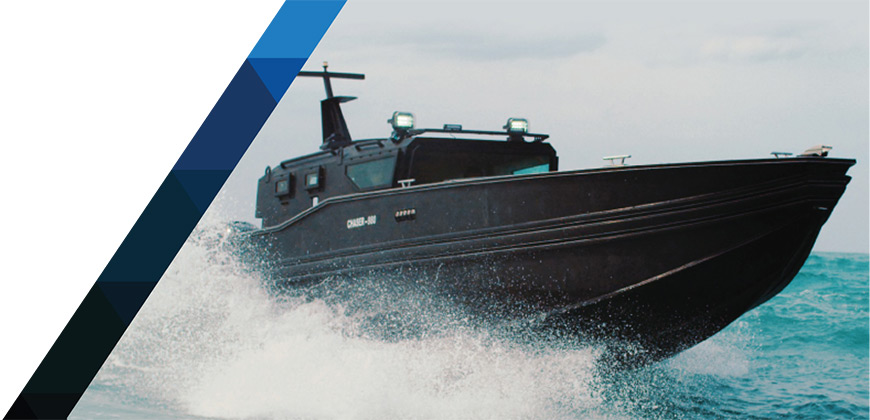 B6 Level Armoring
Specialty Law Enforcement Boat
Combat Boat to Transport and Deploy Infantry
Emergency Response Vessel
Military Assault Boat
Anti-Piracy Mission Boat
Fast Attack Vessel
CHASER 980 crafts are intended for search-and-rescue, maritime security and special operations in inland and coastal waters. Various configurations can offer fitting of turret and gun-ports' locations based on stated demands.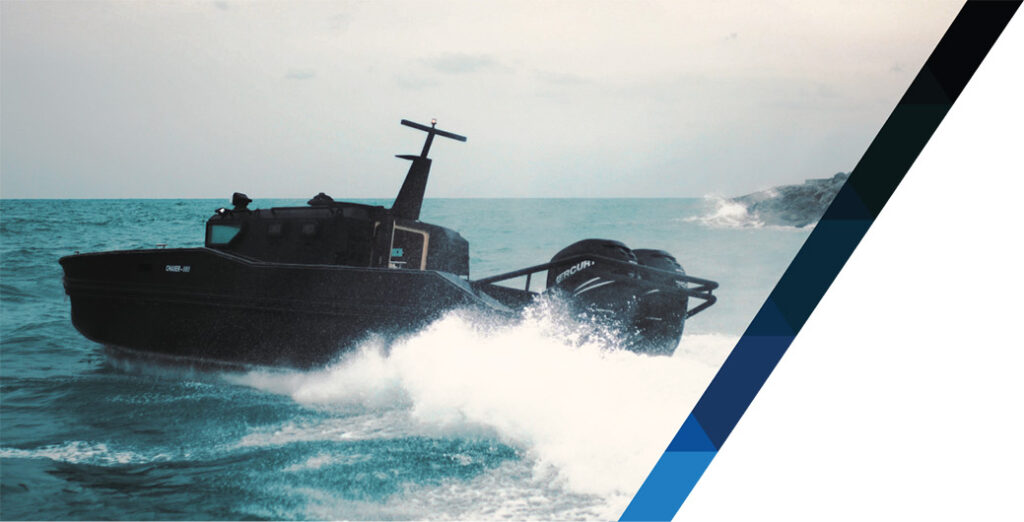 Specially-designed hull with applied sink prevention filter contributes to the unsinkability of CHASER.
One of the winning points is the state-of-the-art material – durable HDPE (High Density Polyeth-ylene) providing a number of advantages, such as:
Ultra-fast and extremely agile with exceptional stability in the most challenging weather conditions
Impact-resistance with minimum maintenance
This sturdy vessel offers the provided advantage of fitting in a 40-feet container with no unnecessary revelation.
Technical Information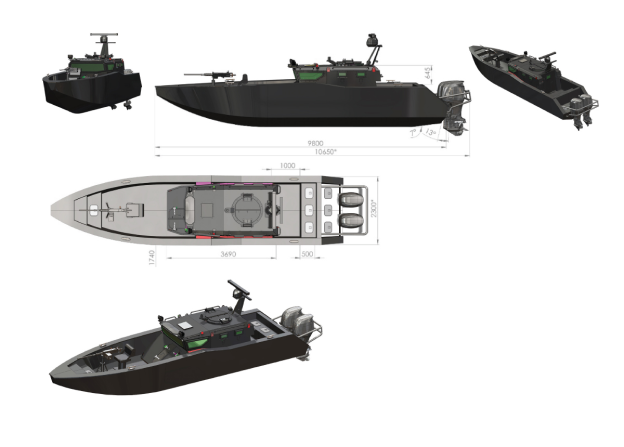 Overall Length: 10,650 mm
Hull Length: 9.800mm*
Beam: 2,330 mm
Speed: 55 Knot
Engines: 350 HP x 2 Mercury Verado (Petrol)
Fuel Tanks: 570 – 1000 Liters (armored)
Hull Material: HDPE 20 – 30mm
Internal/External Parts: High Marine Grade Stainless Steel for external and external parts (not less than SS316L)
Passenger Capacity: 2 Crew + 4 Passengers
Range: 250 nautical mile (minimum)
Endurance: 16 hours (normal economical speed)
Power: 2 Marine 200AMP12 V DC batteries
Helmsman System: Marine navigation system, operating dash board with steering, GPS, engines control, safety control
Lighting: Standard Navigation lights (port, starboard, mast light, flashing light bar c/w waterproof with PAS louder and siren, 2 search lights, cabin and saloon dome lights, desk.
Armoring: Armored cabin level BR6 (body hull/glass)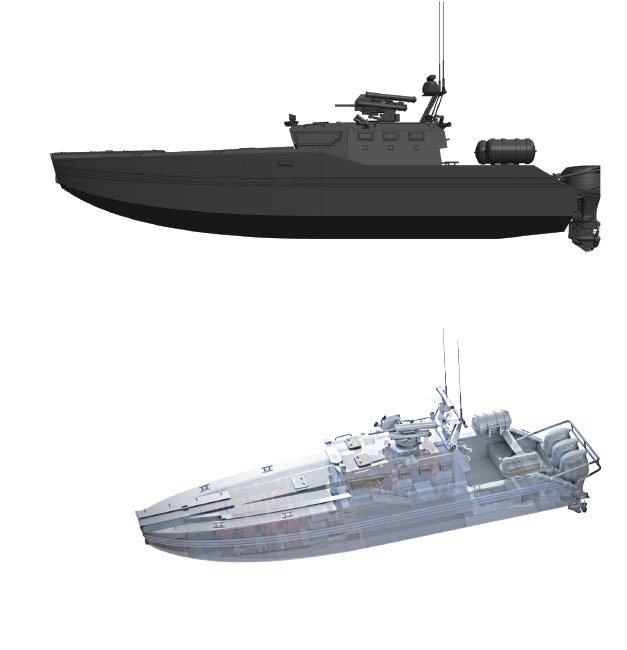 Overall Length: 12,500 mm
Hull Length: 12,000 mm*
Beam: 3,000 mm
Speed: 45 Knot
Engines: 350 HP x 3 (Petrol)
Fuel Tanks: Up to 1600 Liters
Hull Material: HDPE 20 -30mm
Windows: Bullet proof glass BR6 level, helmsman with wipers
Crew Cabin: Armored Monocoque BR6 Level
Internal/External Parts: High Marine Grade Stainless Steel for external and external parts (not less than SS316L)
Passenger Capacity: 2 Crew + 12 Passengers
Range: 250 nautical mile (minimum)
Endurance: 16 hours (normal economical speed)
Power: Generator 5 Kva, 3 marine 200AMP12 V DC batteries
Helmsman System: Marine navigation system, operating dashboard with steering, GPS, engines control, safety control
Accommodation: Airconditioning Unit for Cabin and saloon x1, toilet x1, refrigerator x1
Lighting: Standard Navigation lights (port, starboard, mast light, flashing light bar c/w waterproof with PAS louder and siren, 2 search lights, cabin and saloon dome lights, deck.
Safety: Self-inflating Raft 8-person x 2, 2 life rings, lifejackets
Roof bearing ring with split hatch and gun mount
Tools: Customer tools and boat service tools
Features